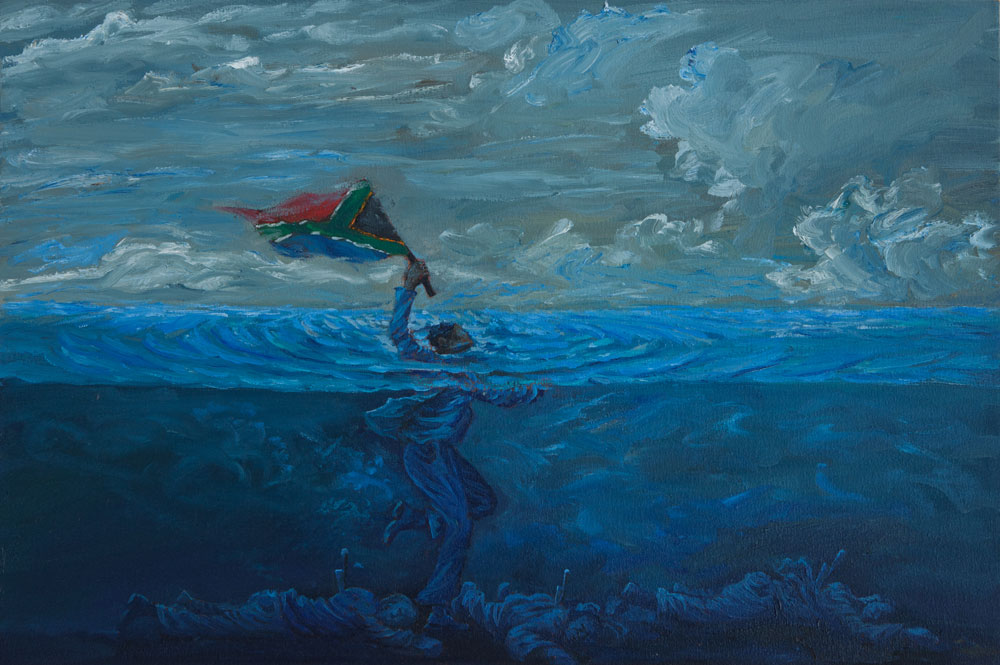 Barnard Gallery is proud to present True Colours – a solo exhibition by Ndikhumbule Ngqinambi. As the idiom suggests, the definition of true colours is to reveal the reality beneath the mantle of appearance.
Truth, memory and history
In this show, Ngqinambi deals with divergent discourses around truth, memory and history, as conveyed through the flag, one of history's most semantically loaded emblems.
Denoting identity, belonging, unity and power, the flag represents the honour of a nation. Its defilement constitutes an act of sacrilege against the state it represents.  But a flag is also a signal to a vehicle or driver to take heed, slow down or stop. Using the flag as his thematic fulcrum against the backdrop of volatile narratives of oppression and liberation, Ngqinambi explores and interrogates the motives of governments in hoisting the flag for reasons other than national unity.
Ngqinambi's personal, political and professional biographies are located within South Africa's segregation and liberation histories. Born in Cape Town in 1977, a year after the Soweto Student Uprisings, he grew up in a conflict zone where the puny arsenal of stones and rubble was pitted against police nyalas and the military might of the apartheid state. In the absence of formal art tuition, Ngqinambi's talent was nurtured at the Community Arts Project, one of the country's indispensable cultural centres addressing the cultural and educational imbalances wrought by Apartheid. He witnessed the dawn of a new era and the promise of an equal and just society. Ngqinambi's career has also benefited from the fecund fruits of cultural freedom heralded by South Africa's political, social, economic and cultural reintegration into the global arena. He recently completed a residency in Stuttgart, Germany, during which he engaged with cultural activists in a febrile, multidisciplinary environment where intellectual discourse and critique melded with conceptualism, mixed media, performance art and installation. He feeds off these contemporary influences but ultimately his art remains grounded in the tradition of painterly figuration.
Ngqinambi's epic scenes straddle the topography of cultural and visual history. His imagery evokes associations with the figurative traditions of 18th and19th European Romanticism, particularly the genre of sublime painting, as well as early 20th century Soviet socialist realism. His work also displays the influence of South African township art and protest art of the 1980s – the latter characterised by the strident imagery and saturated hues of posters carried aloft by anti-apartheid activists and liberation cadres during the height of the anti-apartheid struggle.
His canvases are animated by his trademark imagery: marching crowds depicted against precipitous backdrops, illuminated by celestial skies rendered in sweeping kaleidoscopic hues. Titanic, tumbling forms enact melodramas of both illustrative simplicity and baroque complexity. Through extremes of scale and recurring visual tropes Ngqinambi's imaginary landscapes dazzle while presenting a damning critique. For, unlike the agitprop executed by his revolutionary forebears, Ngqinambi's paintings do not celebrate the nationalistic idealism inherent in traditional flag symbolism. In much of his work the flag is depicted as a sullied symbol, as, literally, a rug being pulled from under the feet of the nation, or a carpet under which the messier bits of ideological supremacy are swept. The flag becomes, therefore, a parody of liberation movements that have lost their heroic lustre, as well as a metaphor for corruption justified through ontological arguments around entitlement and ownership. Although his references also extend to skewed power relations in the Middle East and beyond, Ngqinambi's principal focus is on the specifics of South African history, politics and symbols.
In a profound sense, the South African flag symbolises an apogee in the quest for democratic ideals by a nation whose brutal past has been vanquished by the triumph of justice. But apartheid's meta-narrative has been supplanted by another dominant narrative that celebrates some emblems and monuments as the primary bearers of truth, while shrouding or negating others. Ngqinambi's art reinforces the ambivalent relationship between past and present, as well as competing histories of truth. It raises the vital questions of how to acknowledge the past without being limited by it and how to negotiate the paradoxes of change without resorting to propaganda or oppression. He does this, neither through polemics nor cultural theory, however, but through reflections on individual and collective memory.
In True Colours, Ngqinambi refigures the role of the flag within a broader discourse revolving around the distortions of power. Produced against a backdrop of escalating kleptocracy, the lingering memory of the 2012 Marikana massacre and South Africa's volatile national elections, this show speaks, not of pride, but of betrayal through the excesses of gravy trains and ongoing violence. Ngqinambi's images of conspicuous consumption and crass materialism, convey a dystopian vision of the unbalanced relationship between government and governed, ruler and subject. As such, his paintings issue a warning about flagging morale, sagging morality, suppressed or untold narratives and the lessons history reveals, yet which, at our peril, we choose to ignore.
Hazel Friedman, May 2014.