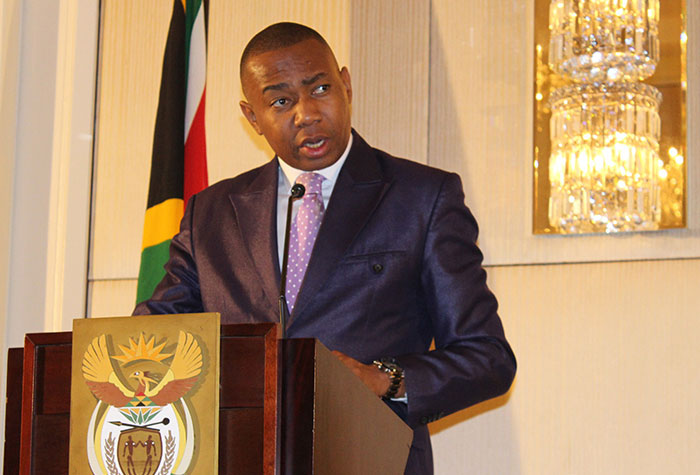 Listed among South Africa's youngest Members of Parliament at age 25 in 2009, Mduduzi Manana is passionate about changing the lives of young people.
He always gets a buzz out of question time in Parliament without the slightest ruffle of temper.
Even when he addresses his opponents, he is always very calm, something one finds quite fascinating given his youthful age.
Manana comes across as a master of his thought process.
His Facebook page says he is a fan of Beyoncé, likes Skin Renewal medical aesthetic skin care centre and list former ANC president Oliver Tambo as one of his inspirations.
But what really pushed Manana to politics at such a young age?
He credits his political family; his mother Sibongile Manana who is also an MP and his grandfather's struggles as having opened his eyes to the social injustices that grappled South Africa before 1994.
This led him to be involved in the battle for democracy- a journey he started from the age of 14 years when he joined the Congress of South African Students (COSAS) and the ANC Youth League (ANCYL). He later graduated with a Bachelor of Arts degree in Political Science and Sociology from the University of KwaZulu-Natal.
At 19 years, he was part of the 33 South Africans who volunteered as human shields during the second war of the War of the Gulf that ensued in the Middle East in 2003.
Despite being a graduate, Manana continued his quest and worked his way up in the ranks of the ruling African National Congress –something he feels was noticed by the organisation.
After the 2009 elections, he was invited to be an MP serving in different portfolio committees such as International Relations and Cooperation and Public Works.
Eventually, President Jacob Zuma appointed him Deputy Minister of Higher Education and Training in 2012.
Today at 30, Manana says his mission is not only to get South Africa's youth access to higher education, but that they should have the skills needed to find jobs and contribute to the economy.
This, he says, is the only way the country will defeat poverty, address inequality and create jobs.
"This department is about the youth – the department of higher education is about skilling the youth and educating the nation as the youth form a larger number of the population. Our duty is to skill them and ensure that they respond to the needs of the economy," he says.
But Manana cautions that growing the economy is an ongoing process and access to higher education for young people does not necessarily mean success.
"For me it is better to have your unemployed youth rather than unemployable youth. In this country we are sitting with a problem of having unemployable youth; youth without skills."
This is the reason he is leading the "The Decade of the Artisan Campaign," launched this year to promote artisanship as a career of choice among the youth.
Manana finds it unacceptable that South Africa had to import coded welders into the country for the Medupi and Kusile Power Stations. He says South Africa's students make poor career choices which he says are the biggest contributor to the high unemployment rate.
"Hence now we are diversifying and introducing the Technical Vocational Education and Training (TVET) colleges, former Further Education and Training colleges, to say to our youth: these are the skills needed to grow our economy and required in order to have you absorbed into the work market."
He says part of his focus is to change these TVET colleges into institutions of choice.
"Many have questioned why I visit high schools because they are under Basic Education Ministry. I tell them that I cannot preach to the already converted because they already understand what we are about as a post school sector. I need to go to the high school so that I get the message across to them because they are yet to make decisions about their future. So I need to counsel them well on time."
In the past employers have raised some concerns about the quality of lectures, equipment and the infrastructure at these colleges.  But Manana says the response has been positive so far-with employers also on board.
To ensure that the sector caters for more youth in the future, the ministry is also in the process of introducing 12 new college campuses across the country- plans Manana says are at an advanced stage.
"We have already identified the sites and municipalities are on board. The reason we took longer to build is because there was a process of land transfers – which is never easy. But the commitment is there from our side."
Other initiatives that the energetic Manana has led in the ministry include 'Apply Now' campaign, which aims to address late application at institutions of higher learning.
Asked about what keeps him going. Unsurprisingly, "helping South Africa's youth" was his response.
"When I help a young South African- be it to access job opportunities or higher education opportunities -I sleep better at night."
Manana, whose office receives thousands of letters from young people, says he has adopted a philosophy of "can do".
"Even my supporting staff is aware that they do not come to me with problems- I am solution oriented and I of the firm believe that there is nothing that cannot be done. I always strive to be part of the solution," he says.
But his message to the youth is simple: education, education, education!
"Education is the key to everything. It is the greatest equaliser. It is a powerful tool to address poverty, inequality and unemployment."
So where does the servant of the youth see himself in the in the future?
Surprisingly, he wants to retire into academics, probably being a history teacher or lecture.
"At some point when I leave active politics I would love go back and do what I love – which is being a history teacher … it has always been my dream hence I went to study political science and sociology."
However before that- at the pleasure of a sitting president -he would also want to venture into the diplomatic service as his assignment before leaving active politics.
But it is not always work and no play for Manana. To relax he plays golf, cooks, reads political books and visit church.
He admits it's not easy to strike the balance- between family, friends, the ANC and the department.
"It is not easy but I try to strike the balance. My friends and family feature because they need to be there and tell me when I am on or off of the track."
Stimulating conversation, an intelligent mind,  some introspection and a bird's eye to the future of South Africa's higher education sector  is what I would sum-up my conversation with Manana. – SAnews.gov.za